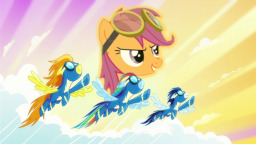 Source
This story takes place some time after Season 6 Episode 7.
In the wake of a severe storm over Ponyville, Scootaloo offers to help the Apples take stock of the damage to their orchards.
During her sleepover she dreams of being a lead pony flying with the Wonderbolts, just like Rainbow Dash; the same dream she has had for years.
Why does she continue to be taunted, or will events finally give her the opportunity to achieve her dreams?
Chapters (5)