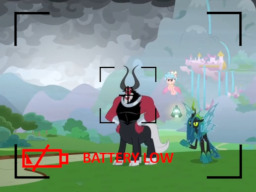 This story takes place during Season 9 episode 25, The Ending of the End, Part II
When Cozy Glow stole Discord's chaos magic from Grogar's bell, she couldn't control it and the magical vortex spilled over into the human world.
The same happened when Pinkie Pie tried it out for herself.
These events would give an unsuspecting wildlife photographer the opportunity to take the picture of a lifetime.
Chapters (1)