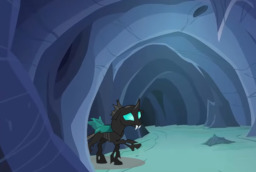 Source
This story takes place some time after Season 2 Episode 26 "A Canterlot Wedding - Part 2".
Kevin the changeling gets a subliminal call from Queen Chrysalis to return to the hive.
Whilst he recognises that he could face severe retribution for having betrayed her, the draw is too strong to ignore.
Why has she called him back?
* Featured at #7 on the banner 01/11 - thank you all! *
Chapters (1)