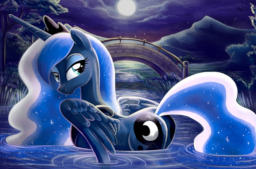 Source
Princess Luna is going to have a foal, and the big day isn't far away.
With little time left before the young one arrives, she finds herself having to cope with the realities of carrying a foal inside her as well as confronting all those issues that only an expectant alicorn can ever fully understand.
This can be read as a stand-alone story or continued to its sequel Luna's Foal.
Please note: The artwork is not mine, but one of my favorite ever pictures of Luna. It was created by the very talented Adlynh and I will take it down if the artist requests.
Chapters (1)