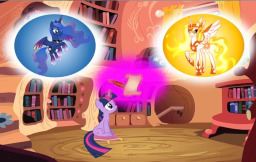 This fic is set in an alternate universe shortly after Friendship is Magic Part 2.
Twilight has to write her weekly friendship report to her mentor, Princess Luna.
The exiled Daybreaker had recently returned after a thousand years' incarceration in the sun and been defeated by Twilight, revealing the formerly wayward Princess Celestia who is having trouble trying to adjust to contemporary Equestrian society.
Chapters (1)