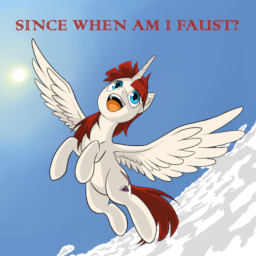 For centuries a certain alicorn has been trapped in another dimension, living quietly, and avoiding being seen by the human eye. When she finally found a way home, her spell went wrong, and it pulled a human consciousness in with her.
That said, consciousness is me, Alex. I woke up one day, only to discover that I had turned into a pony, but I didn't turn into just any pony. I became a pony known as Lauren Faust, the mother to Celestia and Luna. Now I'm living in the Canterlot castle; I have a bunch of royals acting like children, changelings running around, and an ancient alicorn prankster stuck inside my head. All I can say is things get a little hectic.
Rewrite/Return to FimFiction.
You can find the original story HERE
Big thanks to STTPStudio for creating a reading of this story.
Chapters (11)