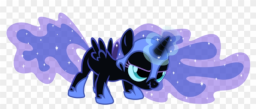 Nick, an 8-year-old boy in New York, has been having a tough life ever since he was younger. At four years of age, his parents died in a car wreck. When he was in 1st grade, he was picked on in school for being an orphan. Recently, he was kidnapped by a wicked pawn shop owner who stole and hid away a diamond somewhere in a nature preserve. But what he didn't know was that the gem reacts to the full moon, sending him off somewhere, taking the diamond with him.
The next thing he knows, he finds himself in an old castle, not knowing how he got there. Not only that, but he finds himself in a completely new body, one of the opposite gender. Nick was now a black alicorn filly, with a mane that looks like the night sky, and turquoise dragon eyes. She also had on a blue helmet and four blue horseshoes. Nick has no idea where he is, what he had become, or what he was wearing, but he has to find a way back to his world in his original form.
But how will the ponies of Equestria take it when they see a filly Nightmare Moon? This will be a very confusing or shocking to the Main 6 and Spike. This is going to be one heck of an adventure.
---
This story is based on Living Nightmare by Autum Breeze, but we're doing this story early in the series, and with a kid that had a lot of trouble through his life.
Chapters (25)