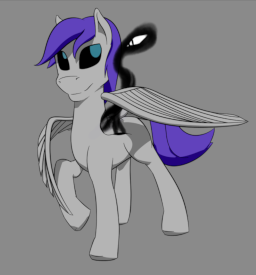 So, ever been told you were living the wrong life? No? Well...let me tell you a thing! More like a story than a thing but regardless! It started when I died, then I got into a political debacle, prevented an assassination, then things just got crazy and really interesting.
Now I'm stuck as some weird Symbiote thing that needs ponies to host it or something. I dunno, I'm learning this stuff with you guys. What do you say? Care to join me on this weird roller-coaster with no brakes and missing tracks that is now my life?
---
---
So, this was a story that was originally made by ColumbiaGuy. However, he slapped it with the "Cancelled" tag some time ago. Now, however, it looks like he's deleted the story, and the account with it. This was a story I felt shouldn't fall to the land of the dead, and so now, I'd like to take up the gauntlet and try my hand at it. There will be a few changes though. So even if you've read the original, there may yet be something new for you here.
I plan on releasing chapters daily after this week until I've gone through the pre-existing chapters. During this week, I might not be able to do it every day, but I'll try to push through finals. ^^
Chapters (6)