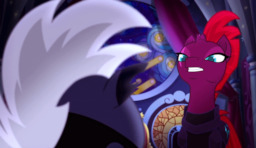 No one can top Tempest for long-wearing yet perfect looks. But how does she do it? What's her secret? Rarity wants to know. And then... she finds out...
A fun, quickie one-shot, not set in any specific AU, though it's compatible with several of my other Tempest stories.
User Spaniard Kiwi was kind enough to post a Spanish translation over on DeviantArt -- thanks much!
Chapters (1)