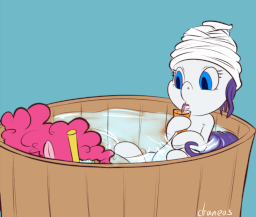 Source
There are many words that can describe the equine force of nature that is Pinkie Pie: loud, fast, bouncy, hyperactive, wild, frenzied, fun...
These are, Rarity would freely admit, normally absolutely wonderful qualities for her friend to have. However, there are circumstances where even the most universally positive qualities are... not ideal. And, she would politely insist, there is at least one place in Ponyville where Pinkie's irrepressible exuberance should never intrude upon: the spa. Rarity would consider this a reasonable arrangement.
And yet, thanks to an ill-timed conversation and the dread spectre of social politeness, these two worlds of hers will soon collide when she is forced to invite Pinkie to spend some time with her in her haven of relaxation.
Will the Ponyville Spa survive? And even if it does, will Rarity's reputation there come out unscathed? Or will, by some miracle, Pinkie bring herself down to the realm of mortals and show Rarity more about herself than she ever could have guessed.
---
Note: the cover picture is entirely unrelated to the story, except in as much as it involved Pinkie and Rarity at the spa and it amused me.
Edited by raven618
Featured on 3rd March 2020 - Thank you guys so much!
Chapters (4)