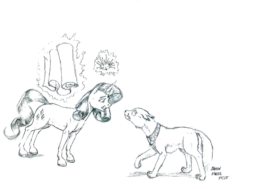 Source
This story is a sequel to Wolf In Pony's Clothing
---
Six months ago, Ardi was just a lone wolf from the Great Northern Forests scouting Equestria, keeping well away from those magic-using Ponies and their terrible Burning Queen.
Six weeks ago he was hiding out from a dragon in a town full of panicked Ponies intent on turning him into a wolfskin rug and stuck inside of an enchanted ponysuit with only one shy flier-pony, three excited pony-pups, and one underhanded baby dragon to cover for him.
Now he's returning to that same crazy town, no longer a wanderer but an ambassador and eager to make amends for his deception.
He's willing to bury the hatchet. As are the Ponies, but in what part of his anatomy?
A sequel to Wolf in Pony's Clothing.
The cover art was done for me by the talented Baron Engel.
Chapters (1)