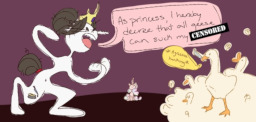 Source
Raven Inkwell picked the wrong week to take a vacation. Specifically, the week when Shining Armor was brought in to consult on improving Canterlot Castle's defenses against the threat of Grogar and his cronies.
To say that Raven has a mess waiting for her when she gets back is a colossal understatement.
---
Not a crossover with Untitled Goose Game—as of Episode 200, the wingèd menace is canon!
An entry in FanOfMostEverything's "Imposing Sovereigns II: Once and Future" contest, under the prompt: "Raven Inkwell — War." An earlier version of this story appeared in the November 2019 Writeoff, "Rot," from which the cover art was also sourced.
Chapters (1)