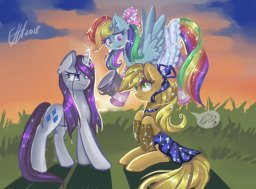 This story takes place after the events in the episode "Magical Mystery Cure"
Rarity is tired of the pranks and the teasing she gets from Applejack and Rainbow Dash about her love for fashion and obsession to always look good. After some pranks Rarity desires to get back at the two and discovers a strange amulet imbued with odd magic.
She uses this power to get back at Applejack and Rainbow Dash turning the two into proper mares with odd new destinies. Applejack now desires to be a food critic and will appease her pallete with only the most fashionable of foods. While Rainbow Dash becomes a sweet young model who adores gowns and dresses. However, the magic goes beyond just changing their destinies, it altered their personalities and soon the two move to Manehatten to live out their new lives. It's up to Rarity to solve her mistake before she loses her friends forever.
Chapters (8)