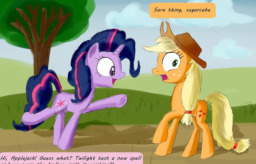 This story take place after the events in the episode Pinkie Keen.
Twilight Sparkle still obsessed over learning about Pinkie Pie's "Pinkie sense" delves into a spell that could give her the answers to finding out what Pinkie sense is. A personality spell that will alter her mindset to become just like the pink Party pony's for twenty four hours.
Spike is then in charge of keeping Twilight within the library. But soon finds himself battling the crazed Twilight who eventually escapes the confines of the library, and starts wrecking havoc upon Ponyville!
Editor Shadowmane PX-41
Chapters (7)