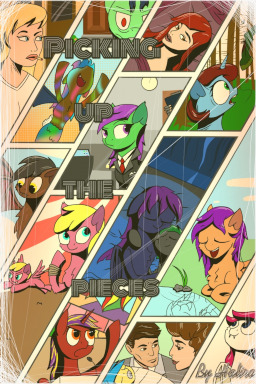 Part of The Pandemic Universe
In the aftermath of the ETS epidemic lives have been uprooted and changed forever. For the new citizens of Riverview, they are most often not even as the same species they were only a month before. Thousands of freshly transformed ponies and their human relatives must now start from scratch here and try to build new lives.
Every pony and human living in Riverview has their own personal struggles; from the human mother dealing with children who are now pony foals, a young earth pony thrust into a position where many humans and ponies depend on her, a scarred pony trying to make right on past mistakes, and many others. They must all now pick up the pieces of their lives and try to put them together
Story notes:
Chapters marked with ** are key Dreamwarden chapters for Pandemic readers trying to get information on Dreamwardens but don't want to read full story.
Art by Mr. Tech
Thanks to Pre-Readers past and present:
Cander
Shadows of Deity
Sandstorm94
Rhys
AATC Fanboy
Pandemic: What You are Meant to Be is a prequel that shares most of the same characters. It follows a character who only has two chapters from their perspective in this story though and is not required reading. For additional background on some characters you can read it, but most things from it you can pick up through context clues in this one.
The original story Pandemic by ASGeek2012 is highly recommended reading before reading this, but this can be understood without reading it.
Trigger warnings: a rape is mentioned but never shown, there is a few scenes near the end that can get violent, profanity is used at times, some LGBT characters, mind altering, PTSD, sex is sometimes heavily alluded to but never shown, non-sexual torture happens in some scenes. I try not too go into too many details with most of these things. There is a lot of arcs that tie to other stories that aren't resolved here as well, be aware that they exist in a larger framework of stories.
Special thanks to ASGeek2012 creating this subuniverse and for looking over selective sections for approval that have impact on the Pandemic universe and for exchanging some notes as we both work on our respective stories.
Chapters (81)