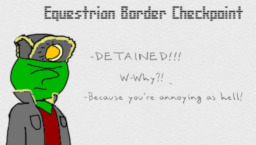 Hi. I'm Anon. Your run of the mill asshole. A proud one at that. When I came to this world, the princesses didn't expect much. Then, they saw how I was good at picking up mistakes. So, they made me a functioning person in society. A mostly pony society. Ponies and other creature would be expecting to be welcomed by a warm hearted pony. Instead, they got me.
(Papers Please does not belong to me, but there isn't a tag for it. Sex tag is for references to sex)
Cover Art by me.
Here's the sequel. People like it for some reason.
Chapters (2)