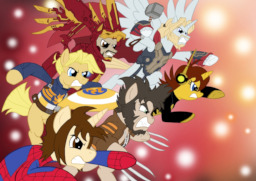 Source
This story is a sequel to Spiders and Magic: New Families
---
The Avengers have two homes, their old home in Marvel and their new home in Equestria. Now with heroes in both worlds, more situations arise.
Many stories to be told, from the trouble with old villains, the portal to Capcom opening, trouble with The Changelings, the arrival of The Brotherhood, and some trouble with Gods.
Peter Parker, Twilight Sparkle and all their friends must help the Avengers keep the worlds safe.
Chapters (45)