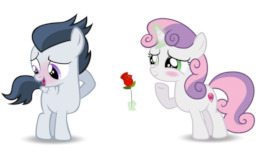 Source
This story is a sequel to Sweet Affection
---
It's been months since the Cutie Mark Crusaders tried helping Rumble with his crush, or rather Scootaloo tried getting Rumble to like her even though he liked Sweetie Belle. All that's been resolved and Rumble is happy with his new marefriend.
Now both Sweetie Belle and Rumble's best friend Dinky are training with Twilight Sparkle to further their magic, but when asked to go to The Changeling Hive, Starlight Glimmer takes over as a mentor. How will she fair when trying to be both a mentor and an older sister to these foals?
Plus Tender Taps has been having some troubles of his own, such as finding his own filly to be with. Perhaps Rumble can help him, just as Tender Taps might be able to help Rumble.
And what happens when they suddenly have to go against Changelings?
Chapters (14)