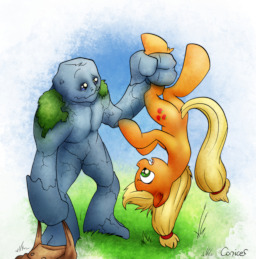 Hello!
My name is T. I was the tiniest troll in village. Trolls are mean. It is the life of troll to be mean. It is how it is.
Then I found orange pony, and pony is not mean. Pony are nice. Orange pony shows me other ponies and I like ponies. The other trolls found out I like ponies, and trolls are mean. Trolls says I love pony so much, I go live with pony. I say I am troll not pony, they say "NO!" I go live with pony, I only return if I eat pony.
But I say I do not eat pony be-cause they are nice and not mean! So they tell me to leave.
Now I lives with with the ponies. The ponies are nice and teach T how to read and write and all about friend-ship. Purple, pink, orange, white, rainbow, and butter pony are all nice to T. Purple pony tells T to keep practice writing, so I practice writing.
I said "What do I write?" They say "What-ever I want."
T the tiniest troll writing what T wants.
It makes T very happy.
-T, the tiniest troll
----
This story is a epistolary, "a story that is told through reading letters from characters to each other (or to someone else)." Thank AppleJinx for the word of the day.
---
Chapters (4)