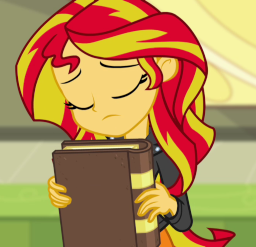 Source
---
Sunset Shimmer had one friend before the events of Equestria Girls, a diary. She abandoned the book in her spiral into darkness but now, with a chance of redemption, she turns back to her old friend for help. Does writing in her diary help her recover her life? Will she be able to overcome her memories, feelings, and school bullies to make deep connections with her new friends? It's all in her diary, all you have to do is read it.
This story is an epistolary, written entirely from the perspective of Sunset Shimmer making diary entries. For those of you unfamiliar with this format it means you are getting both the story as she is writing it as well as the emotions and thoughts she has while reviewing the events she is writing about. Half the story is how and why she writes what she writes.
Pre-read by alt-tap, asylum1388, Monanniverse, and totallynotabrony
Edited by Nopony_Important
A special thank you to EQD Pre-reader 63.546. When I submitted this story to EQD he saw it as close enough to post that he took extra time to help me touch up the story. As it turns out, he helped me 3-4 years ago on the ponychan boards when I first drafted Excessive Worry. It literally took me years to get good enough to make good on his notes and now it's been featured by groups such as the Seattle's Angels.
Art by Elsia-pony
Chapters (6)