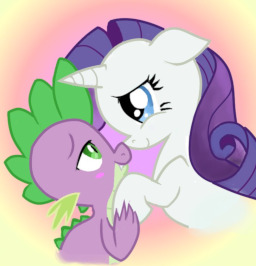 Spike has loved the beautiful and graceful Rarity with all of his young dragon heart from the moment he had first laid eyes on her. The problem was that Rarity barely noticed him. One day he decides to make his intentions known to her, only to find that she has her eye set on the handsome Baron Summersday and his quest may have already come to an end.
Meanwhile, Rarity — after the disastrous event of the Grand Galloping Gala — has been in contact with a stallion named Baron Summersday via mail, as the finale of the Gala prevented him from meeting her in person. After several missives between themselves, he invites her to his mansion for the weekend as an honored guest. Rarity sees this as the possibility of her dream of finding the one for her finally becoming a reality.
But is this really a dream, or a nightmare instead?
Chapters (3)