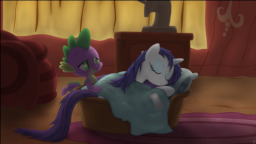 Source
Sparity stories for the thirty minute pony story tumblr. Tags subject to change.
1: Prompt #59: Rarity's the hero.
2: Prompt #61: The break up.
3: Prompt #67: Spike goes on an adventure with some or all of the Mane Six.
4: Prompt #69: Rarity's day off.
5: Prompt #76: An ambassador has come to Canterlot.
Chapters (5)