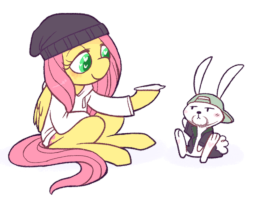 Source
Rated T for Teletubbies
Heavy OOC Warning
You are Anon, the sole human of Equestria. Despite you living here for quite a while, you still discover new things daily. And since a minute here is pretty much ten minutes on Earth, you can discover quite a lot in a single day.
One of those things is that Fluttershy is a stoner.
Who knew?
I'm a piece of trash who writes crap when he's sick.
(I'll probably take this down to rework on it later, y'know, when I'm not coughing my lungs out)
Oh, that 'Sex' tag is pretty much bull, but I feel like I need it there.
Chapter Exclusive tags:
Puns - Chapter 1
Dialogue - Chapter 2
Regret - Chapter 3
Poon - Chapter 4
Missing Something - Chapter 5
A Bad Joke - Chapter 6
Chapters (6)