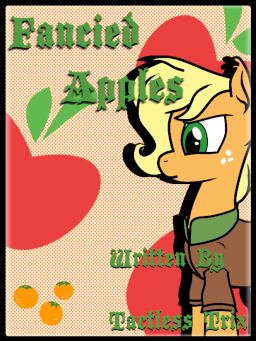 Source
12/05/2019 Note to readers:
"Fancied Apples" is currently undergoing an editing overhaul; expect updates again shortly!
She'd witnessed the Rainboom happen, but never felt the inclination to go home. Instead, Applejack had opted to stay in Manehatten with her Aunt and Uncle. As the years passed, she's eventually encouraged to go home for merely a visit.
However, that simple visit is turned into a more... permanent situation after unforeseen events. How will she ever get along with these Ponyville slobs? During the Summer Sun Celebration no less! And what's this? It's the Apple Family reunion as well... what more could go wrong?
---
---
Accidentally inspired by Lost Apples by mageli7
By that, I mean I didn't know it was a thing when I started writing this out.
But seriously, it's good! Ya'll should go check it out if you like this

---

Enjoy

Chapters (2)