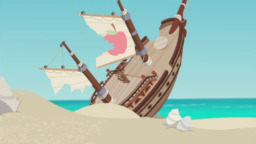 Source
Hit the popular page: 5/5/19, 5/7/19. Yarr.
He's no good guy, but he's definitely not a villain. Captain Sprinkletits only does what he does simply because he hates his name. Yes, it's as simple as that.
Oh, I guess I sort of lied, he hates his mother for having given it to him in the first place. Now it's as simple as that.
Everything pirate that he's done is just to grind her gears.
. . . . .
Previous title(s): "The Unlikely Adventures of Captain Sprinkletits," "That's got to be the worst pirate I've ever seen"
A simple pirate story about a pirate who doesn't pirate like a pirate just to annoy his mother. It just works.

Enjoy!

Chapters (2)