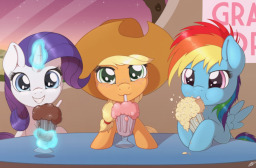 Apple Bloom, Scootaloo, and Sweetie Belle are the first club of their kind in Ponyville.
Or are they?
Turns out that their big sisters had a club too. And they were more awesome, more dangerous, and more mischevious than the Cutie Mark Crusaders could even imagine.
This is a collection of stories, told to the Crusaders by AJ, Dash, and Rarity themselves, about their childhood exploits. Danger, pranking, experimenting gone woefully wrong - the young club of daredevils had it all. Except cupcakes. Because only Pinkie Pie has those.
I invite you to come and find out exactly what kind of disharmony the Elements of Harmony got up to in their childhood. It'll be a wild ride.
Link to cover artist's page: http://ratofdrawn.deviantart.com/art/Milkshake-525540020
(MON DIEU! How did this story get featured?!) 4/9/2017
Chapters (4)