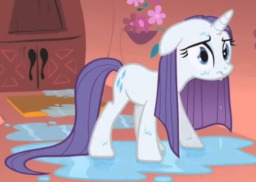 Rarity tends to embrace innovation: after all, a pony who wishes to stay on trend must move with the times. And she loves anything which gets rid of dirt. So when she sees a new kind of shower at an expo, she becomes the budding company's first customer. Because what could be more important than cleanliness?
The common sense required not to be a new product's tester. That's much more important.
(A stand-alone, no-prior-reading-necessary part of the Triptych Continuum, which has its own TVTropes page and FIMFiction group: new members and trope edits are welcome.)
Now with author Patreon page.
Chapters (1)