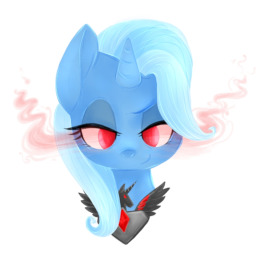 Source
This story is a sequel to Actually, I'm Dead
---
After losing control of the Alicorn Amulet, the Elements of Harmony sealed Trixie inside an obsidian statue. She didn't refuse. She didn't fight back. Trixie gladly accepted her penance in order to keep her friends safe from her own demons.
But some things come back, even if they shouldn't.
Now Trixie has to figure out her own position in the great scheme. Yet as she does so, she will also have to protect her friends, and she doesn't know if she's strong enough.
Co-written with Nightwalker
[The story is currently On Hiatus. I can't express how sorry I am for that. Here's the longer explanation.]
Cover art by Grandifloru. Used without permit until further notice (or the eventual C&D and/or stalking and murder, depending on the case).
Chapters (5)