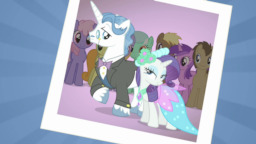 Fluttershy gets invited to the biggest dance in all of Ponyville. Since she doesn't know many stallions in town, she invites Spike to go with her. However, the dance is known to be a very romantic event, leading everypony that finds out to mistakenly think she has feelings for Spike.
Soon, Twilight, Applejack, Rarity, and Spike try to figure out why Fluttershy likes Spike, and it devolves into an argument on who should be "shipped" with which pony that makes sense, and soon it unravels a string of secret romances, weird secrets, and more in a parody of the world of shipping.
Minor characters will be added to the character list as new chapters go up.
Chapters (8)