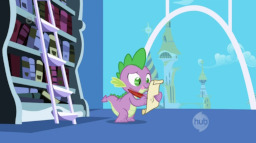 [On Hiatus so I can finish some of my other projects. I still love this story, so I'll continue it!]
"Why can't I write a good story? I've got everything sorted out in my head, and my dreams are so detailed, I should be able to write whole novels from them! So why can't I get a proper story out on to paper using those dreams? Every single one just doesn't sound right. It's either too short, or too cheesy, or I just can't bring myself to show it to the world on parchment!"
Spike is trying to write a story involving him and his Lady Rarity, but his dreams just don't seem to work on paper. So, what do you do when you have a blank sheet of paper in front of you, and a pen standing at the ready? You brainstorm, and read!
This is just a short story, far from a one-shot, but mostly something for me to do. I'd call it 'experimental writing', as it may contain ideas I might use in the future, or one-off ideas that I don't consider good enough to make into stories, but still want to mention them. I guess you could call Spike, and this story, my creative vent.
Warning: may nod to popular fiction, non-fiction, and stories deemed by communities as 'vulgar', 'terrifying', 'perfect as kindling', or any combination of the three. Hopefully not that last one, but you never know.
Chapters (3)