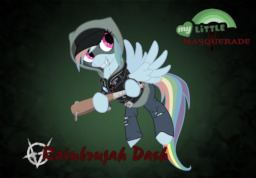 [On Hiatus so I can finish some of my other projects. Considering this is a very big story for me that's going to see a lot of sequels, it's a project I'm definitely coming back to.]
Sun, lots of sun. Celestia's blessing for all the little colts and fillies in Equestria, but not for one pegasus who finds the sun and nice weather has outstayed its welcome just a little too long. A nap taken in order to pass the boredom is interrupted by a strange visitor in black.
What once started as a day gone bad turns into a journey through Equestria's history, and a tale that many would consider fable turned reality; but perhaps it's been real all along?
[Credit to Rhanite of DeviantART for the badass cover art! Thanks man!
A/N: Welcome, one and all, to the first entry in my story arc! What's the name of this story arc?
Well, I'm sure I'll think of one. So far, I'm happy to say the title is this:
"Mira"
...The Mira Arc. Not bad.
Ahem, anyway, yes, this IS the first entry in my overarcing story, and it will be my first shot at building a living, breathing world with dynamic action and reaction.
Praise, ravage, criticise and stupify, I'm expecting and wanting it all. Enjoy!
Chapters (7)