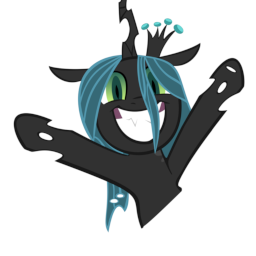 [Collab between KillerSteel and Art Inspired. Thanks for the ideas and contributions, bud! Here's to a continuing collab effort!]
After the Changeling Invasion in Canterlot, everypony just wanted to get back home and forget what happened. The bride and groom got married and they're both happy now, right? Nothing to worry about.
The Changelings were blown away, and Canterlot was saved. But when it comes to a certain Queen, faced with accepting that the invasion was her fault, she goes on a quest to receive enough love to feed her children.
Only question is, will the ponies of Equestria be forgiving enough to allow her this?
It's just a hug, right?
Chapters (2)