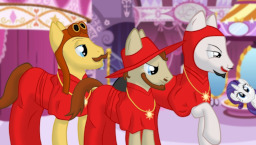 Source
Long ago, Celestia created the Spanish Inquisition and put three strange stallions in charge for unknown reasons. While Twilight goes to question her mentor about this, Spike, Rarity, Applejack, and Granny Smith all have encounters with these three zealots. They didn't expect them at all, and they are all very confused.
Ponified Version of Monty Python's Flying Circus Sketch "The Spanish Inquisition." If you've never seen it, shame on you, and here's a link: Nobody Expects the Spanish Inquisition
Hope you all enjoy. If not, I blame it on being my first story.
Chapters (4)