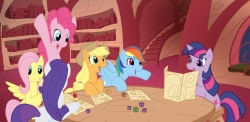 New! Part 3: After Twilight notices Applejack becoming increasingly obsessed with the game, she tasks Pinkie Pie (of all ponies) to keep an eye on her. The two head out into Ponyville in search of adventure and the perfect game.
Part 1: Twilight has finally convinced Applejack to join her other friends in Spike's weekly D&D game. However, will she be able to figure out the rules before they all drive Spike crazy?
Part 2: Applebloom, Scootaloo, and Sweetie Belle have stumbled across Twilight's D&D books, and convinced her to take up the dice once more. But will anypony meet their high standards to be their Dungeon Master? More importantly, what will happen when you-know-who finds out?
Chapters (13)