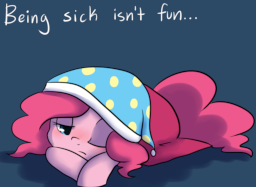 Source
Getting sick is no fun, and Pinkie Pie learns this the hard way when she comes down with a bad case of hay fever. It's nothing but bed rest and medicine for her.
Realizing they'll need somepony else to help foalsit their children, The Cakes prepare to turn to Pinkie's friends but to their surprise it's Rarity who volunteers.
Before long, Pound and Pumpkin Cake take a shine to their new foalsitter, much to Pinkie's dismay. It seems to her that she's being replaced.
It's up to Mr. and Mrs. Cake to help Pinkie realize just how much she means to them, and how nopony could ever take her place, no matter what.
(Proofread by Smity1038 on DeviantArt.)
Chapters (1)