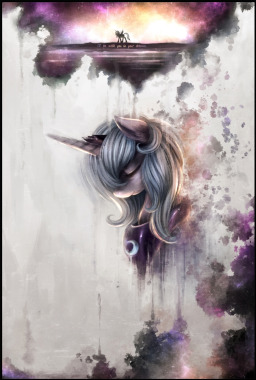 Source
Darkness holds dominion over the world. Cinders of Sun and Moon gathered from a long-forgotten catastrophe are all that remain to shelter the village from the consuming void. But their power wanes. Lanterns of Sun and Moon held close against his chest, a stallion takes up the mantle of light bearer and forges into the abyss to return light to a world that has all but forgotten it.
Beyond the safety of the village gates, he will meet a voice of shadows and starlight, and many are the revelations it has of the world he thought he knew so well.
---
7/10/19 update: This story has been completely remastered to meet my 2019 writing standards! Enjoy!
Love this story? It's available in hardback and paperback!
[Cover art by Ventious]
Chapters (16)