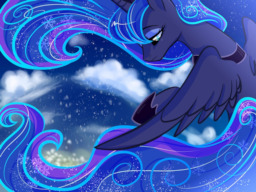 Source
Twilight's hosting her yearly white elephant gift exchange, and Princess Luna couldn't be more honored to attend.  The camaraderie of spending an evening with friends captures the spirit of Hearth's Warming in such a way that even a silly yet simple game can mean so much more.  But while the fire of friendship burns strong, so too does the fire of curiosity:
What could possibly be in that box?
---
A very belated Secret Santa gift for Lopunny. I'm so sorry this took so long! Hope you like it!
Coverart by OofyColorful
Chapters (1)