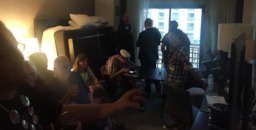 Source
Armed with multiple legal and illegal substances, Super Trampoline enlists the help of various authors at Horizon's author party to write a crappy story about Spike's eighteenth birthday party held at Twilight's castle that has a lot of chaos.
Written by Super Trampoline with some help from xjuggernaughtx, MyNibIsIntact, Prockett2, DarkLink22, DJFireFrost, Filler, AbritiveHaze, Blackwell, Phoenix Quill, KiyaDentrun, ButterflyCrossing, JinxyChan, Chibi Chabot, Terabyte West, Flutterpriest, biasedeyes, Regidar, Pwnyville, ClopandCircumstance, Nick Ha who tried to sign in as shortskirtsandexplosions, Jordan/Ventariel, Marx, Cypher (Jake), Ponyamorous, Jordan179.
Special thanks to Xepher and Horizon for organizing the hangout and tolerating me.
I'd like to point out that the BABSCon story was less a collection of smashed authors collaborating and more of Super Trampoline yelling out, "horizon, give me a car that was popular in the late 70s" or "xjuggernaughtx, I need a villain from the show." What you have subjected yourself to was a double shotgun blast of pure Trampoline, unfiltered and unedited. It's like radioactive creativity."
~xjuggernaughtx

Chapters (1)