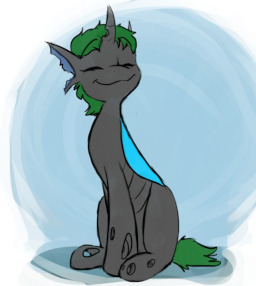 It's usually boring work, maintaining an Equestrian border crossing. Doubly so if you're stationed at the Badlands crossing, with no incoming and a general populace still too busy licking its wounds to try anything funny. But it pays well, so guards tend not to complain.
But then you get the occasional day where everything goes wrong. Where an errant changeling with an attitude and an extremely punchable face tries to waltz past the station with a cart full of contraband, and sticky gross contraband at that.
If the border guard can get out of this one with all of their brain cells, they're definitely applying for a transfer to Ponyville.
---
Written as a birthday present for Carapace
Chapters (1)