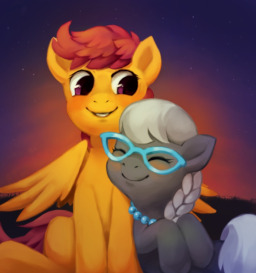 Source
Scootaloo wasn't quite sure what she expected when she found a letter from her "secret admirer" asking to meet her after school, but it wasn't an invitation to the school dance. Nor was it spending Hearts and Hooves Day with Silver Spoon.
Prereading and editing by Formerly Committed, Jondor, and Timaeus.
Special thanks to bats and Formerly Committed for giving me the prompt this came from.
Art originally by Cuppae
Chapters (2)