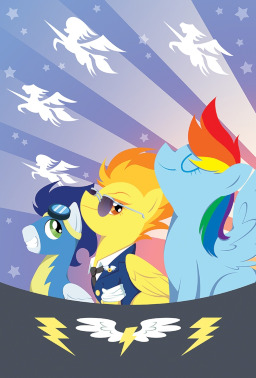 Source
There are certain rules every Wonderbolt has to follow so no pony can accuse them of cheating their way to the top, every prospect faces the same tests and is expected to make it themselves. Fortunately, Captain Spitfire seems eager to help Rainbow achieve her dream and finally don the iconic blue and yellow of her heroes.
But come to think of it, why should Spitfire take that much of an interest in her?
Editing and prereading provided by Cryosite, Fahrenheit, Jondor, Melon Hunter, and Timaeus.
Special thanks to Fahrenheit for brainstorming with me!
Original artwork by yoonny92.
Chapters (3)