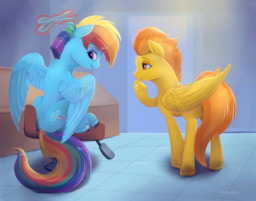 Source
Appearance, talent, or attitude? Which is more important? What truly makes a mare who she is?
Spitfire asks herself these questions as she watches Rainbow Dash change her image to join the Wonderbolts. But does she really want to let the young pegasus she's admired for her skill and integrity change who she is because of a silly rule?
Preread by Fahrenheit, and Timaeus.
Cover art by viwrastupr.
Chapters (1)