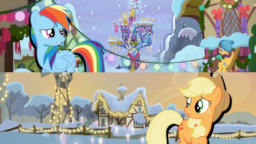 It's been four months since Applejack and Rainbow Dash began their relationship. Applejack's spending the holidays with Pinkie's family once again, leaving Rainbow in Ponyville—a decision that leaves them both unsure.
A short story , written for The Fourth AppleDash Contest; about family during a special event.
All comments and criticism welcome!
Chapters (4)