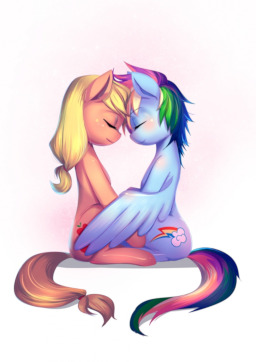 Source
The Summer Sun Celebration was never typically associated with second chances, not until Twilight Sparkle and her friends discovered the Elements of Harmony and used them to cleanse the jealousy from the heart of Princess Luna, at least. On that fateful night, two seconds chances were granted:
One for Luna herself, that she might seek forgiveness from her sister and the citizens of Equestria for her actions.
The other was for Princess Celestia, that she might once again find some measure of happiness after a thousand years of loneliness.
Some years later, however, another mare hopes for a second chance of an entirely different nature. She knows she doesn't deserve it. She knows it's stupid to even ask.
So why the hell can't she just let it lie?
- - - - - - - -
Written for the 4th AppleDash contest, under the categories "Second Chances" and "A Special Event". Second place finisher.
Edited by Craine. Sorry for keeping you up until stupid o' clock, buddy!
Cover art by bakki. Used with permission.
Sex tag for author safety, nothing actually explicitly mentioned.
Chapters (1)