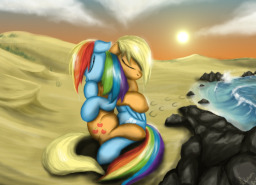 Winning a race together during the Hearth's and Hooves Day, Rainbow Dash and Applejack receive a prize; riding a cruise ship.
But an unexpected event happens- it is about somepony yelling, "The boat is sinking!"
---
Entry for the fourth AppleDash contest: AppleDash: With A Little Twist of Lemon
With the categories: "A Life Changing Event" and "A Special Event".
Chapters (4)