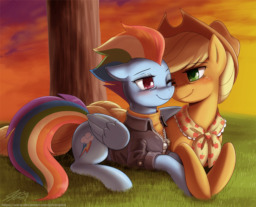 Source
Applejack's birthday is coming up. She can tell by her calendar. She can tell by the bitter chill in the morning air that brings a slight ache in her bad knee. And she can tell by her marefriend's shifty behaviour. Every year was the same: Rainbow Dash would poke and prod, in her cute and not-so-subtle way, trying to weedle information out of her, and Applejack, in turn, would drop hints about what she wanted that year. It was a game they played, one that Applejack gladly participated in, just to see that happy grin on her marefriend's face as she opened her present and told her it was just what she wanted.
Except this year is different. This year, Rainbow isn't poking and prodding, she's acting smug and aloof. Like she knows something Applejack doesn't. There's an excited energy about her, one she hasn't had in a long time, not since she made Captain of the Wonderbolts.
No, this year, something is very different. A difference that's confirmed when Applejack finds a box on her doorstep one morning. A box addressed to her. From Rainbow. It contains a riddle. The first of many. And she has only six days to solve them all.
Well, Applejack was never one to back down from a challenge.
- - - - - - - -
Cover art by John Joseco.
- - - - - - - -
Entry for, and winner of, the 6th AppleDash competition.
Chapters (6)