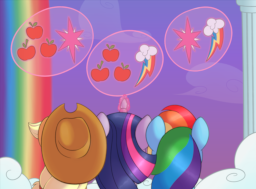 Source
Twilight Sparkle is lonely. She didn't realise it for the longest time, but when she met her friends, she began to understand she was lacking something in her life. Over time, she further understood that friendship was not all there was to knowing other ponies. And every year, a particular day comes around and reminds her of her romantic situation.
Even now that she's a princess, Hearts and Hooves day manages to remind Twilight that, once again, she is without a very special somepony. But, unbeknownst to her and those that will be involved, the end of this Hearts and Hooves day will herald the start of something wonderful for the new alicorn. Something strange and altogether new.
In fact, one could go so far as to say it will be quite curious.
--------
Written for the 2014 AppleDashLight competition.
3rd place! Woohoo!
Cover image used with the kind permission of RatofDrawn.
Pre and proof-read by:
bobdat
Craine
Tchernobog
Chapters (5)