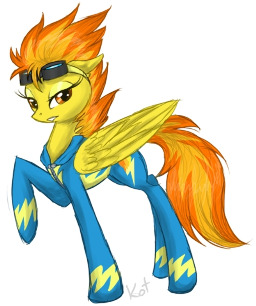 Source
Being Captain of the Wonderbolts certainly makes life easy. Everything a Pegasus could ever want is available in bucketfuls: Money, fame, glory, a good team and anything else on tap.
Spitfire has been riding this metaphorical high for years. She lives fast, but well. From the outside, she appears to take her gifts and lifestyle for granted, but those few close enough to the golden pony know her as one of the kindest, most thoughtful ponies around.
So why doesn't she have a special somepony yet? Even though her celebrity status affords her many suitors of both genders, all of her relationships have failed sooner rather than later. This has gone on for some time, but is all about to change due to a chance meeting with a certain mare in a Canterlot nightclub...
Author's Notes: Written for TAW's 2012 shipping competition. Rated Teen for alcohol consumption and minor sexual references.
A thousand thank-you's to Tchernobog for allowing me to use Mood Wings as a reference for pegasus wing-language; and for pointing out an error in my narration technique. Go give the dude some love.
A shout-out should also be made to futzi01 of deviantart, whose upload of the canon map of Equestria I used as reference for several things.
Also, thanks go out to Epidemiix and Chrono212 of the Escapist for giving me feedback while I was writing.
Chapters (3)