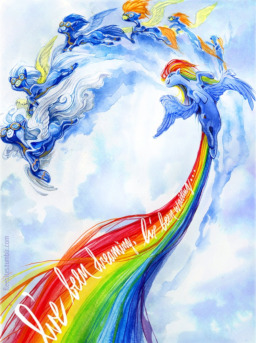 Source
There is a tradition sacred to every member who has ever put on the storied flight suit, one that makes the wings itch to fly and brings a tear to the eye of the most stony-hearted of all pegasi.
Lead the way, kid. The sky's yours. We're right behind you.
Welcome to the Wonderbolts.
Prereading and editing help by Fahrenheit and Timaeus.
Special thanks to Fahrenheit for brainstorming this with me.
Cover art by fleebites.
Chapters (1)