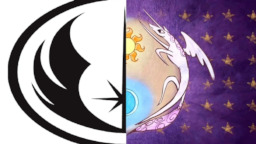 As an agent of the Jedi Council, Revan Vao, distant descendant of Republic Hero Mission Vao, has seen some of the worst examples of sapient behavior that the Republic can offer, when a freak occurrence forces her to crash on Equestria, she is stuck with no way home. Now she just has to adapt to a land based upon Harmony and Friendship and filled with talking ponies.
A HiE-style Star Wars/MLP crossover.
Featured on 07/09/16, thanks everyone!

Final edits and revisions (hopefully) finished on 02/13/17 06/23/17.
---
Rated Teen for (mostly fictitious) language, innuendo, violence, and Cloud Kicker. Romance tag for later chapters, and Gore tag for a few specific chapters.
This work is a not-for-profit endeavor, no copyright infringement is intended, please don't sue me or any other party that distributes this work.
Chapters (34)