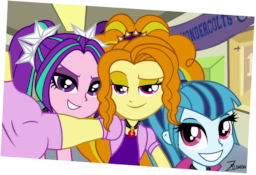 Source
It was over. The Dazzlings were defeated in the Battle Of The Bands by the Sonic Rainbooms. The necklaces shattered, shattering their lives. Their self-concept was also shattered. Their music career was over. They thought they would never sing again.
Suddenly, Twilight Sparkle returns to the Equestria Girls universe to meet up with Sunset Shimmer. Both noticing the Dazzlings have changed, they offer them a deal. A deal to go back to Equestia to start over. To get their necklaces repaired and drained of their evil magic. To become ponies again. A second chance.
---
Upon returning to Equestria, the Dazzlings meet a pony named Sapphire Shores. She also loved to sing. Will she help these ponies truly redeem themselves and get them back to singing again?
Chapters (10)